Mountain Driving Tips for Your Winter Adventures
Author: Joey Rosenberg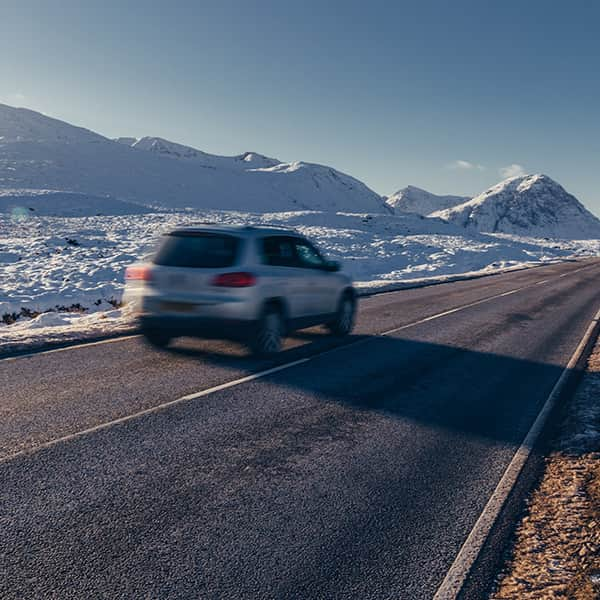 It's the end of January, which is right in the middle of ski season for many adventure-seekers and athletes across America. Reaching the country's top ski and snowboard resorts often involves some treacherous driving. After all, why travel to hit the slopes if there isn't any powder on the ground?
Perhaps you live in mountainous conditions all winter long, or maybe you're planning to set out on a long-distance road trip to test your winter sport skills. Either way, it never hurts to brush up on your mountain driving knowledge and techniques. Read through these mountain driving tips before packing up the vehicle and hitting the road this ski season.
Allow Extra Time
Heading to a ski resort for the weekend shouldn't be a stressful experience, so slow down and enjoy the mountain scenery along the way. Chances are that the roads will be snowy, icy or wet so keep your speed low and be especially alert.
Fuel Up Before You Go
Winter weather conditions often make travel take longer than expected. Don't be caught off guard with too little gas in the tank. Make sure to fill up your tank before setting out on your ski adventure so that you don't have to worry about hiking to a gas station along the side of the road in the snow.
Ascending a Mountain
Remember that uphill traffic always has the right of way. You may want to drive the first part of an ascent in low gear or in the low range to help it operate more efficiently. If you're all decked out in your snow gear during the drive, resist turning on the air conditioner to cool down. This can cause the engine to overheat, so roll down a window for a fresh, cold blast of air.
If your vehicle is struggling with an ascent, pull over at a designated turnout spot to allow other cars to safely pass. If you're traveling faster than other vehicles on the road, only pass when you have enough clear visibility to do so.
Descending a Mountain
Put your vehicle into low gear when you descend a mountain as well. Save your brakes, because you'll definitely need them throughout a snowy drive. Avoid applying continuous pressure to your breaks when driving downhill since this causes an excess of heat inside the brake system.
Always stay in your lane and on your own side of the road when driving, especially when visibility is less than ideal. And again, if you want other drivers to pass you, wait until you see a designated turnout spot with plenty of room to pull over.
Prevent Overheating
If the mountain roads have gotten your engine a little too hot, you may be able to run it at a fast idle. Make sure to review your driver's manual before driving in mountainous condition to learn about the best procedures for your specific vehicle. Another overheating tip is to run water on your radiator core to reduce heat and condense steam before continuing on with your drive. But never add water or other coolants to your vehicle without consulting the manual first.
Stay safe on the mountain roads and enjoy the rest of ski season!