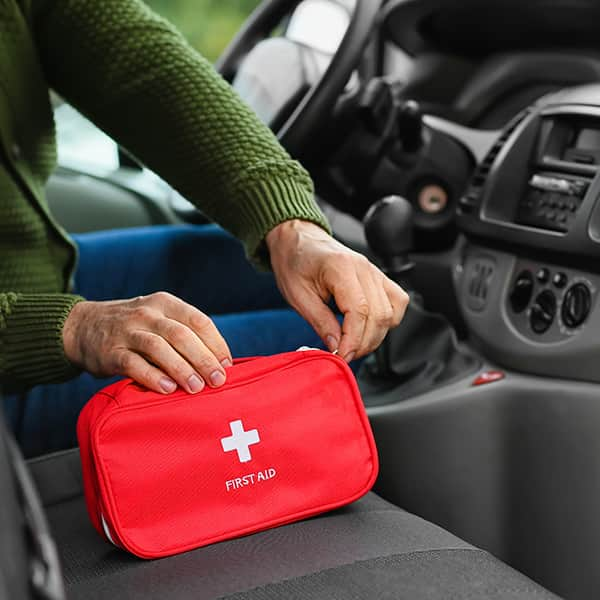 Whether you're hiking a trail, going camping in a tent, or just going for a long drive, it's always best to be prepared for medical emergencies and injuries. Many people don't pack first-aid kits in their cars because they believe having a cell phone with them at all times is sufficient.
However, even some minor injuries require immediate attention in order to stop bleeding and begin to ease pain. A first-aid kit in the car can come in handy for all sorts of purposes while you're out and about – not just in the event of a car accident. These are the essential items that you should pack in your car's roadside emergency first-aid kit.
Medical Necessities
Bandages, adhesive tape, antibiotic ointment, and gauze pads are some of the most common first-aid items that should be in every kit. A first-aid manual should also be easily accessible in your car in case of an emergency. Some of the other important items that you should include in your kit:
Instant/chemical cold and hot packs
Disposable gloves
Plastic bags
Scissors
Tweezers
Cotton balls and Q-tips
Sterile eyewash
Thermometers
Soap and hand sanitizer
Over-the-Counter Medications
If you rely upon prescription medications that your life depends upon, consider adding a couple doses of these medicines to your first-aid kit in case you become stranded along the road and are not able to get home to take them as you normally would. In addition to those essential medications, these are some over-the-counter medications that you should stock in your kit:
Aspirin and non-aspirin pain relievers
Antidiarrheal medication to prevent dehydration
Antihistamines and cold medication
Calamine lotion
Allergy medication
A medicine cup
Standard Emergency Items
In addition to these medical items in your kit, you should always have emergency items in your car if you experience trouble on the road. These are some of the most important emergency items to have with you at all times:
Cell phone and charger
Emergency contact numbers
Waterproof flashlight and batteries
Candles
Blanket
Flares
Sunscreen
Additional Items for Kids and Pets
As all parents and pet parents know, kids and pets require extra care and preparation. These are some of the other items you should have in your car if you're traveling with children or animals:
Disposable diapers
Kid-safe Insect repellant
Pet muzzle
Pet leash
Vet emergency contact information
How to Store Your First Aid Kit
Another important point to consider is how and where you will store your first-aid kit in your vehicle. The most common options are a pouch or a box, but you can really use many of the containers that you may already have lying around the house. If you have limited storage space in your car, a waterproof sealable pouch or plastic bag can even do the trick. If organization and accessibility are important to you, consider using a toolbox, tackle box, or art supply box that has individual compartments.