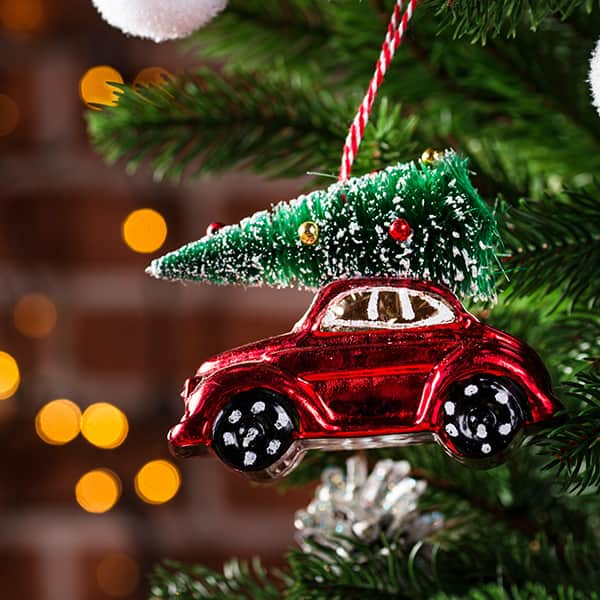 The holiday season is always full of joy and merriment, but unfortunately, it's also a dangerous time for drivers and travelers across the country. With so many Americans traveling to festive destinations and enjoying a few extra days off from work and school, the holiday season is a prime time for car accidents.
Even if you aren't among the millions of Americans that have to drive during the holidays this year, chances are some of your friends and family members will be hitting the road over the next few weeks. Here are some safe driving tips to share with your loved ones as a reminder to be safe and cautious this time of year.
Leave Earlier Than You Think You Need To
One of the biggest causes of accidents is drivers being in a hurry to reach their destinations. Keep in mind that there will be more traffic jams, more impatient drivers, and more frantic shoppers out around Christmas. Take some of the stress out of holiday travel by leaving a little earlier than you think you need to. This way, you can reduce traffic-related stress and enjoy the drive with some festive music on the radio.
Give Your Car a Checkup
Car maintenance problems are the last things you expect to happen during holiday travel, but unfortunately, they often do – especially if you live in a cold, snowy climate. Before setting off on your holiday trip, take your car into a trusted shop for a checkup. Make sure that the tires are properly inflated, the engine is running properly, the brake pads aren't worn out, and that you have plenty of windshield wiper fluid.
Don't Drive Drunk or Drowsy
Holiday parties often involve festive cocktails, so drunk driving is particularly problematic this time of year. Many people also end up feeling exhausted due to holiday planning, shopping, and celebrating – so drowsy driving is a serious problem as well. Never get behind the wheel if you've been drinking, or if you're feeling sleepy. Regardless of the situation, there are plenty of safe alternatives, including public transportation, a designated driver, and staying over at a friend's house.
Be Extra Cautious Around Other Cars
Even if you're sober and well-rested, it doesn't mean that everyone else on the road is as well. Be extra watchful of other car's movements and drive defensively. Don't drive too closely to other cars in case they begin to swerve or veer into your lane.
Skip the Holiday Car Decorations
Holiday decorating is part of the fun this time of year, but limit the festive decor to your home, yard, and office. In past years, you've probably seen cars sporting those amusing life-sized reindeer antlers and tails, Christmas decals, and wreaths. Not only are these types of decorations illegal, but they can also impair your visibility and cause you to have an accident.
From all of us at First Time Driver, have a safe and enjoyable holiday season out on the roads!