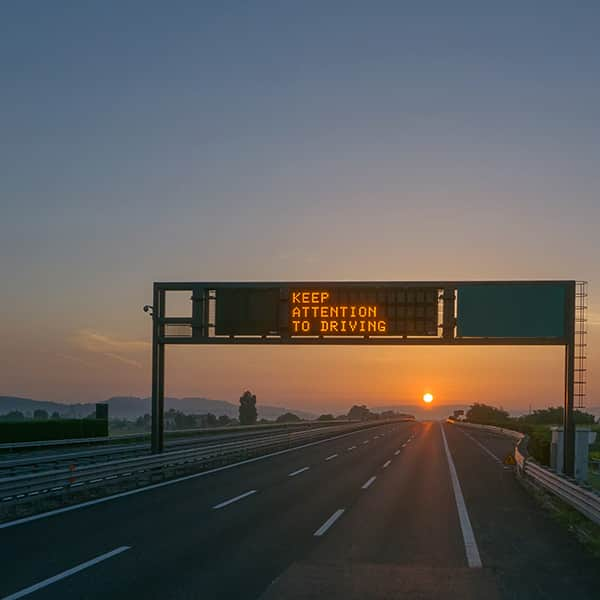 Have you driven past one of those ominous highway fatality signs on the road lately? In states across America, electronic billboards are popping up to remind drivers about how many people have died in auto accidents recently.
This is a relatively new driving safety campaign that aims to reduce the number of roadway crashes throughout the year. Here are a few of the areas who have embraced the campaign and how it's working out so far.
Fatality Signs in Tennessee
In early 2014, the Tennessee Department of Safety reported that fewer people died in roadway crashes than in the previous year. During 2013, 988 people died on the road in Tennessee – a drop from 1,015 in 2012 and one of the very few times in five decades that this number has ever dropped below 1,000.
"There is no empirical data, but we feel at least half of our crashes are caused by some kind of distraction in the car, whether it's cell phone, email, texting, eating, and reading. We see all kinds of things on the road," said Col. Tracy Trott.
It's unclear whether the electronic signs are the main factor contributing to the lower death rate. Police in the state have also been cracking down on drivers and passengers who aren't wearing their seatbelts.
Fatality Signs in Texas
Texas is another state that has been using digital death toll billboards to make an impression upon drivers. The Texas Department of Transportation was using over 700 of these billboards back in 2012, when it began displaying the year-to-date death totals for a week each month. In recent years, about 250 people have been killed in auto accidents in Texas each month.
Fatality Signs in Utah
Utah's Department of Transportation has taken a different approach to the death toll signs. With a more positive approach, electronic messages in Utah read more like, "Zero fatalities on Utah Roads in the last 3 days." Utah officials have also stated that they don't want the signs to lose their effectiveness by having the messages posted all of the time.
"We wanted to actually have some positive news to report, in the hopes that we will build on that and be able to report a very large number of days without a fatality at some point during the summer," said John Gleason UDOT spokesman. "If drivers see the same thing day after day they tend to start overlooking it."
The "zero fatalities" signs were prominently posted around the most recent Labor Day holiday, which is a notorious time for deadly accidents. Iowa is another state that has posted "zero fatality" billboards along Interstate 80.
Fatality Signs around Chicago
If you drive around the Chicago area on occasion, you've likely encountered electronic fatality signs as well. Unlike some other regions of the country, the Chicago death toll signs are displayed every day of the year to warn motorists. These numbers account for all road fatalities, including collisions with cars, motorcycles, cyclists, and even pedestrians. Traffic fatality messages began rotating with Amber Alert messages and emergency notifications in the summer of 2012.
"The ones who are against [the fatality signs] often are people who have recently lost someone in a crash – it becomes a terrible reminder to them," explained John Webber of IDOT's Division of Traffic Safety. "And we're very very aware that that can be a painful thing for a lot of people. And we're just hoping that the public good that this can provide would outweigh that – and that people would understand that's our motive, not anything else."
Do you have electronic highway fatality signs in your area and if so, do you think they are effective in reducing highway accidents? Share your comments with us here!