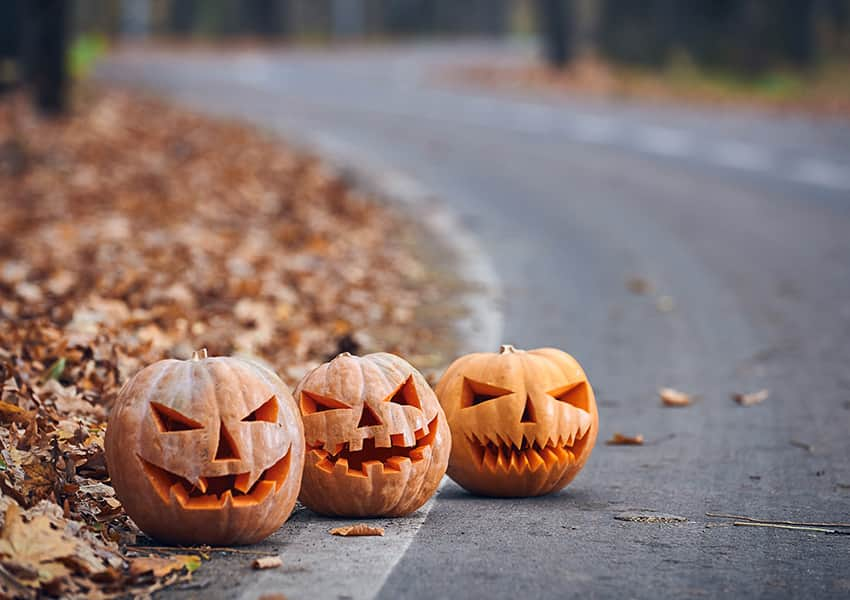 It's the night when goblins and ghouls roam the streets! Halloween can be one of the most fun and creative holidays all year, however, it is often one of the most dangerous ones too. Follow these driving tips to ensure a safe Halloween this year.
Be Vigilant About Pedestrians
More pedestrians are out on Halloween afternoon and night than most other times of the year, and many of them are young children. This is the time to be extra vigilant about pedestrians when you are driving because many of them will be wearing costumes with limited visibility. As a driver, you must assume responsibility for keeping the kids in your neighborhood safe.
Use Caution Around Stopped Vehicles
If you plan to drive in an area frequented by trick-or-treaters, keep an eye out for stopped vehicles along the road. Parents may be dropping their children off to ring a few doorbells and waiting for them to safety return. Pass stopped vehicles very slowly and with extreme caution in case children run out in the street to reach their cars. Driveways and alleys require extra caution as well. Make sure to use your turn signals well in advance of passing a vehicle and use your hazard lights if you need to pull over.
Plan Extra Time to Reach Your Destination
Know when the Halloween festivities in your area are taking place so that you can plan your driving route accordingly. Not only will this help keep pedestrians and party-goers safe, but it may also alleviate the frustration of driving in congested traffic. Halloween activities in many areas occur between the hours of 4:00pm and 8:00pm, which is also the time many people are traveling home from work or school. Avoid using your cell phone to talk, text, or navigate so that you stay alert and focused on the road.
Don't Drink and Drive
In 2011, 38 percent of Halloween night fatalities occurred in a crash that involved driver with a BAC of .08 or higher. Adult Halloween celebrations often revolve around parties that involve alcohol and then send partiers home on the roads at the end of the night. If you plan to drink on Halloween, make sure to plan a safe way home in advance.
Depending on where you live and how far you have to travel for the party, you can call a cab, take public transportation, call a sober friend to pick you up or stay over at the host's home for the night. And remember, walking while impaired can also be very dangerous. Even if you don't plan to drink or attend a Halloween party, be extra aware of other drivers on the road so that you can quickly react if they are swerving or speeding.
Please stay safe this Halloween and have a wonderful time celebrating!