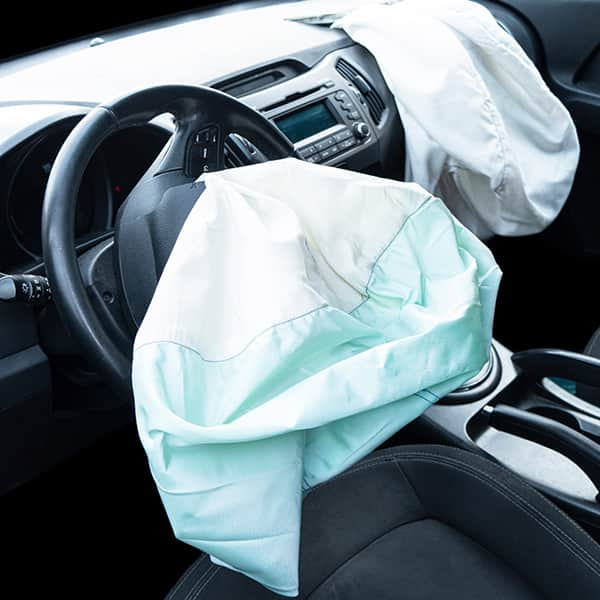 Airbags save thousands of lives each year, allowing drivers and passengers to walk away from serious accidents with just minor injuries. According to the Insurance Institute for Highway Safety, front seat airbags reduce driver fatalities in frontal crashes by 29 percent and fatalities of front-seat passengers age 13 and older by 32 percent. However, airbags can actually be dangerous if you don't understand how they work and how to use them. Due to widespread airbag recall notices recently, airbag safety is incredibly important to keep in mind as a driver.
How Airbags Work
In order for airbags to be effective they must deploy in the first milliseconds of a crash. This typically occurs within the first 0.05 second in a frontal crash and within the first 0.02 seconds in a side crash. The airbag control system in your vehicle relies on feedback from sensors to predict whether a crash is serious enough to set off the airbags. Airbags are designed to provide a cushion for the head, neck, and upper body during an auto crash. However, if a driver or passenger is seated too close to the airbag or not wearing seat belts, they could actually be injured by an airbag suddenly inflating. It's important that everyone in your vehicle is wearing both a lap safety belt and a shoulder safety belt to keep each person's body in a position for airbags to be effective.
Front, Side, and Rear Airbags
Front airbags have been required in all new manufactured vehicles since 1999. Although side airbags aren't required by law, most manufacturers include them as standard to meet other federal safety requirements. Automotive engineers have been experimenting with rear airbags as well to protect back seat passengers and also front-center airbags to prevent passengers from colliding with each other in case of an accident.
Airbag Safety Tips
Here are some airbag safety tips to keep in mind every time you drive:
Hand Position
Experts recommend holding the steering wheel at either 3 o'clock and 9 o'clock, or even lower at 4 o'clock and 8 o'clock. These positions ensure that if the airbag goes off, your hands will be less likely to fly into your face from the impact of the airbag.
Sitting Position
To avoid potential airbag injuries, drivers and front seat passengers should sit with their backs against the seatbacks and with their feet on the floor. Drivers should sit with their chests at least 10 inches away from the center of the steering wheel. Don't rest your arms or legs against an airbag because it will deploy with great force and warm gases in an accident.
Areas around Airbags
Keep the areas on or around airbags free of objects that could either deploy airbags accidently or stand in the way of the airbag protecting you. If you have an aftermarket dashboard cover, make sure that the front airbags are not blocked.
Infants and Children
If you're traveling with children, always make sure that car seats are positioned in the back seat since airbags can pose serious hazards for babies, infants, and young children.
Recent Airbag Recall
The National Highway Traffic Safety Administration recently alerted owners of certain Toyota, Honda, Mazda, BMW, Nissan, Mitsubishi, Subaru, Chrysler, Ford and General Motors vehicles to act upon urgent Takata airbag recall notices. There are over seven million vehicles involved in these recalls and is especially relevant to drivers in Florida, Puerto Rico, near the Gulf of Mexico in Texas, Alabama, Mississippi, Georgia, and Louisiana, Guam, Saipan, American Samoa, Virgin Islands, and Hawaii. To see if your vehicle is affected by this airbag recall or other relevant recalls, you can search for your VIN number online at SaferCar.gov.