Parent-Taught Driver Education Online Course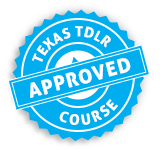 This TDLR-approved course is designed for students who want to complete driver education without classroom instruction and with adult assistance. This course, also known as PTDE, helps students and parents navigate important driving safety topics while ensuring adult guidance as students practice driving.
How Does Parent-Taught Online Driver Ed Work?
First, each student and parent is required to request approval from the TDLR to complete parent-taught driver education by completing a TDLR application. Next, once the application is approved, the TDLR will send a Parent-Taught Driver Ed Packet which contains important information and forms, including the behind-the-wheel (BTW) training materials for the parent or other approved individual. The student can begin their online course once they've received their packet.
NOTE: BTW instruction should be completed before students take their mandatory Impact course, provided free of charge by the Texas Department of Public Safety (DPS). Learn more here.
What Will I Learn?
In our PTDE course, teens learn defensive driving habits essential for new drivers, traffic laws, and other key topics. These include sharing the road, how to handle emergency situations, avoiding the dangers of distracted driving, and how to read and interpret traffic signals and signs.
How Do PTDE Students Earn Their Learner's Permit?
Once they have complete Module 1, PTDE students aged 15–17 can take the learner's permit exam either in person or online. To take the exam in person, students must visit their local DPS office, where written permit exams are administered. The student and parent or legal guardian must bring all required forms, which are included in the packet sent by the TDLR, to the DPS office.
Skip the DPS and Take the Learner's Permit Test Online
Students who take our parent-taught program have the option to upgrade to an online learner's permit exam instead of taking the exam in person at the DPS office. Our DPS-approved online permit exam is a convenient option that allows students to attempt the official permit test online. Students who elect to take the permit exam online will receive notation on their certificate showing proof of completion, while students who do not take the exam online must complete the exam at a DPS office. For any questions about this process, simply contact our Customer Support team for answers.