Self-Taught Driver Education Online Course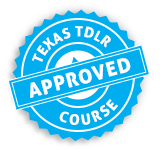 Our TDLR-approved Self-Taught Online Driver Ed course is for teens 14–17 years of age. We've designed this course for students who want to fulfill their driver ed requirements on their own, without requiring the aid of a guardian, parent, or instructor. This Online Driver Ed course is a convenient way to learn driving safety while fulfilling the 32 hours of state-required classroom education.
How Does Self-Taught Online Driver Ed Work?
Instead of traditional classroom driver education, this course lets teens who enroll in our TDLR-approved course to immediately begin their driver education online after registering. This means no instructor approval process or waiting for forms from the state to arrive by mail.
What Will I Learn?
In our Self-Taught Online Driver Ed course, teens learn new driver defensive driving habits, traffic laws, and more. Topics covered include sharing the road with other drivers, handling emergency situations, avoiding the dangers of distracted driving, and reading traffic signals and signs.
How Do I Fulfill the Behind-the-Wheel Requirement?
Students who take our self-taught Online Driver Education course can meet the state-mandated requirement of 44 hours of behind-the-wheel and in-car observation by adding our Behind-the-Wheel (BTW) course after finishing the online course portion. Students opting for our convenient BTW course fulfill TDLR requirements when accompanied by a parent, an approved guardian, or a traffic school instructor.
NOTE: BTW instruction should be completed before students take their mandatory Impact course, provided free of charge by the Texas Department of Public Safety (DPS). Learn more here.
Save Money!
One of the best reasons to add our BTW course is potential cost savings. While you have the option to complete your behind-the-wheel training at a traditional traffic school with a qualified instructor, it can be expensive. Our BTW course also offers a more affordable opportunity by allowing a parent/guardian to assist instead. Plus, it's competitively priced to fit any budget.
NOTE: Before beginning the BTW course, the student must have already completed the 32 hours of online instruction provided in the self-taught Driver Education course.
Skip the DPS and Take the Learner's Permit Test Online
Students aged 15–17 will be eligible for a learner's permit after completing Module 1 (6 hours) of this course. They can then take the learner's permit exam online, which is DPS-approved and included with the course. After completing this requirement, a Texas Driver Education Certificate (DE-964) will be mailed to the student. The student, accompanied by a parent or legal guardian, then presents this certificate and other required forms to a local DPS office to obtain their learner's permit.