Adult Driver Education Online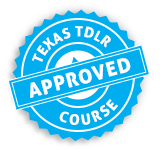 Adults 18–24 who have never had a Texas state driver's license must complete adult driver education to apply for a driver's license. Our Adult Driver Education course is approved by the Texas Department of Licensing and Regulation (TDLR) to meet your adult driver license requirements as stated by the Texas Department of Public Safety (DPS). Get your mandatory Texas driver ed for adults with our 100% online course!
Why Do I Have to Take Driver Education to Get a License?
In March 2010, the state of Texas passed a rule requiring anyone age 18–24 without a valid driver license from another state or country to complete an approved driver education course and a driving skills test to become a licensed driver in Texas.
What If I Am Over 25?
Our Adult Driver Education course is voluntary for adults 25 and older. However, it is highly recommended for all first-time and novice drivers, plus it provides comprehensive training to help adults pass their DPS driving test requirements the first time!
NOTE: Those 25 and up must complete a state-mandated Impact course, provided free of charge by the DPS. Learn more here.
What Will I Learn?
All the 100% online material is designed to educate adult drivers on important driving topics, such as:
Texas traffic laws
Car safety features
Accident avoidance
Driving in adverse conditions
Road rules
Handling high-speed environments
How Long is the Online Adult Driver Ed Course?
This course is the required total of 6 hours.
Do I Have to Take a Written Test?
No. Our Adult Driver Education course was developed so you can complete your Texas driver's license requirements 100% online. No written tests at the DPS! Once you've finished, we'll process your completion and mail your state-issued certificate to provide the DPS when applying for your license.